I recently wrapped up my countdown of the top ten greatest country women of the nineties, and boy did I have fun writing about every one of them. But just how many women made great country music during the nineties? Way more than ten, so it was inevitable that a few would get crowded out of the final list. Thus, I decided to devote a special post to the great nineties ladies who didn't quite make the top ten, but who are deserving of honorable mention.
Sara Evans
When you think of great country women of the nineties, isn't good ol' Say-ra (spoken with a Southern accent) the first one who comes to mind? She might not be, seeing as her big commercial breakthrough didn't come until after the turn of the millennium. But Sara first surfaced in 1997, with her debut album Three Chords and the Truth, which remains the finest and strongest album of her career, and could have sparked a neotraditionalist revival movement if only Country Radio had gotten on board. But radio gave Sara a cold shoulder, and refused to spin any of her early singles into the Top 40 (Though she later some traction at radio with the chart-topping title track to her second album No Place That Far)
The title track to Sara's debut album was a testament to the power of country music in dredging up emotions - In some cases, emotions that were there all along, but that we might try to ignore. "Three Chords and the Truth" peaked at #44 on the Billboard country singles chart, falling short of becoming a major hit, but becoming the highest-charting single from the album. With strikingly well-crafted lyrics and tender emotional vocal, "Three Chords" represents one of Sara's finest musical moments on record.
Suzy Bogguss
The lovely Suzy Bogguss is remembered for having a voice that, as Chet Atkins rightfully described it, "sparkles like crystal water." Her hitmaking streak only lasted through the first three years of the nineties, but she made some of the best country music the decade had to offer. Even after Country Radio had forgotten about her, Suzy continued recording music, experimenting with different musical styles, and performing to a loyal following.
One of her best known hits was the touching ballad, "Letting Go," which examined the perspectives and feelings of both a mother and daughter as the daughter prepared to leave home for college.
Wynonna
She entered the decade still performing as part of country music's favorite duo, The Judds. But when Mama Judd was sidelined by a bout with Hepatitis C, Wynonna set out on a solo career of her own, making her mark on country music with a distinctive voice that radiated soul and spunk. Though she already had a long list of Judd classics on her resume, Wynonna scored another four number one hits as a solo artist. Her 5x-platinum solo debut, simply titled Wynonna, showcased stronger and more nuanced vocals than ever before.
The biggest hit of Wynonna's career was the 1992 four-week number one hit "No One Else On Earth" which has remained a radio recurrent for nearly two decades. A funky genre-collision of an arrangement and a gritty growling vocal make this single simply unforgettable.
Tanya Tucker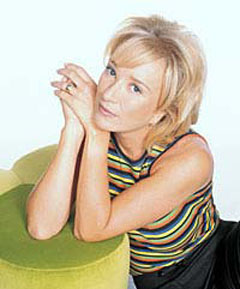 Tanya first broke through in the country music mainstream as a teenager in the seventies with classic hits like "Delta Dawn" and "What's Your Mama's Name." After enduring a career slump in the early eighties, she made an extraordinary comeback, and was still riding high in the early nineties. In 1991, she won her first Female Vocalist of the Year award from the CMA, and gave birth to her son on the same day. She scored two platinum albums with What Do I Do with Me and Can't Run from Yourself, the latter of which produced one of her signature songs, "Two Sparrows In a Hurricane."
"Two Sparrows" was a tender love ballad that followed a couple through all the difficulties of life, from their young puppy-love romance to decades of happy married life that followed. The song became one of the most-awarded hit songs of her career, and the accompanying music video won an ACM award.
Jo Dee Messina
After Shania Twain's breakthrough, the road had been paved for another spunky and confident girl singer with an ear for a great pop-country hook. Jo Dee Messina filled the role perfectly. In 1996, Jo Dee scored two Top Ten hits right out of the gate with "Heads Carolina, Tails California" and "You're Not In Kansas Anymore."
She faltered at radio with her next two singles, but her second album I'm Alright saw her sitting comfortable at the top of the charts, producing three back-to-back number-one hits ("Bye Bye," "I'm Alright," and "Stand Beside Me"), and one number-two hit (her cover of Dottie West's "Lesson In Leavin'"). In 1999, she won the CMA Horizon Award and the ACM Top New Female Vocalist award.
LeAnn Rimes
More than a decade before the whole LeAnn Rimes/ Eddie Cibrian/ Brandi Glanville fiasco erupted, LeAnn was known for her Patsy Cline-esque vocal style and the novelty of being only thirteen years old at the time of her emergence in country music.
In 1996, this girl who wasn't even old enough to drive had her first Top Ten hit with her debut single "Blue," which is well remembered for its infectious yodel hook. The single won a slew of industry awards, including a Grammy for Best Female Country Vocal Performance, and a CMA award for Single of the Year. It also helped propel LeAnn's debut album of the same title to sales of six million copies. Songwriter Bill Mack, who had originally written "Blue" for Patsy Cline (Patsy died before having the chance to record it), won the CMA award for Song of the Year. In addition, LeAnn won a Grammy for Best New Artist and a CMA Horizon Award.
Lee Ann Womack
Besides LeAnn, there was also Lee Ann. When Lee Ann Womack emerged in 1997 as a traditional-leaning country artist in a pop-oriented Country market, she was eagerly embraced by country fans who hungered for some classic country.
When fans first heard her debut single, "Never Again, Again," it was clear that this woman was country to the core. Her self-titled debut album quickly reached Top 10 selling status, and eventually radio jumped on board as well. Lee Ann scored her first major hits with her next two singles "The Fool" and "You've Got to Talk to Me." The album went platinum, and Lee Ann was named the ACM Top New Female Vocalist in 1998.
Radio and fans continued to embrace the new voice of traditional country music when she released the follow-up album Some Things I Know. Two of the album's singles, "A Little Past Little Rock" and "I'll Think of a Reason Later," became some of Lee Ann's best-known nineties hits, the former of which earned a Grammy nomination.
Terri Clark
Terri Clark was introduced to country music through records made by her grandparents, who were stars in the Canadian country music market. After graduating high school, she moved to Nashville from her native Alberta, Canada, and began pursuing a music career of her own. She cut her teeth performing in the famed Tootsie's Orchid Lounge, and eventually secured a recording contract with Mercury Records.
Her self-titled 1995 debut album went platinum, and produced three bit hit singles ("Better Things to Do," "When Boy Meets Girl," and "If I Were You"), all of which Terri co-wrote. Her second album Just the Same was certified gold. Throughout the decade, Terri was able to remain commercially viable by adapting to current trends, but at the same time never sacrificing her own identity as an artist.
Terri's biggest hit of the nineties, "You're Easy On the Eyes" was a fine example of the smart lyrics and knockout performance that made her such a well-loved and memorable nineties country star.