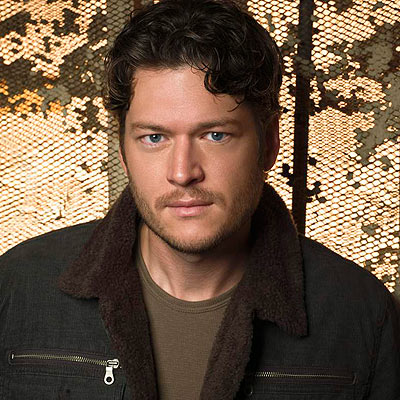 Blake Shelton is riding high right now. He recently enjoyed another number-one hit with "Hillbilly Bone," a duet with Trace Adkins that earned an ACM nomination for Vocal Event of the Year. But now I want to know why he chooses to make a single out of the weakest song we've heard from him in quite some time.
"All About Tonight" sounds like a second-rate Montgomery Gentry song. It's about partying, beer-drinking, and shameless flirting, and it even hints at a one-night stand. Gosh darn what happens tomorrow - it's "All About Tonight." I can think of several reasons why those lyrics are an unfortunate misfire. The obvious first reason is that they are utterly pointless. Granted, not every country song needs to be a heart-wrenching ballad. But if an artist is going to appeal to our party-animal side, he can still do so with lyrics that are worthwhile. For example, Alan Jackson's two-stepping hit "Good Time" proves itself superior by describing why the narrator wants to go out and have some fun - he's been working all week, and he's tired. That makes the song more relatable to listeners. An artist can also enrich the lyrics of a party song through witty humor and wordplay, as evidenced in Shania Twain's 1996 smash "Any Man of Mine" as well as the Brooks and Dunn classic "Boot Scootin' Boogie." The lyrics of "All About Tonight" fail on both accounts, merely describing rowdy and wild behavior. The fact that Blake uses the dreaded A-word certainly doesn't help at all.
If the lyrics fall flat, the intstrumentation may be the last hope of saving a song. But on this tune, the production does nothing to improve it. Consisting primarily of electic guitar and a prominent drum beat, this song's production sounds like generic and unremarkable country-rock that is tailor-made for radio. Even the melody sounds dull and uninspired - not the kind that will make you want to sing along.
Instead of giving us something outstandingly good, it seems that Blake is only trying to capitalize on his recent successes, continue his string of hit singles, and further project his bad boy image. It is not surprising that a singer would focus on such goals, but such are not the makings of a true artist. With memorable hits like "Austin," Blake has demonstrated genuine artistry in the past, but "All About Tonight" greatly falls short of his previous standards. If I throw together a country hoedown anytime soon, this is one song that definitely will not make the party playlist.
BLAKE'S SCORE: 3
(Scores are given on a scale of 1 to 10)