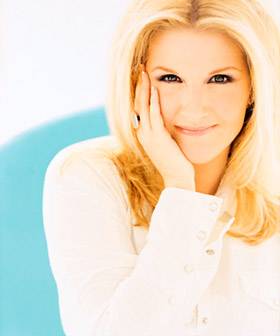 Lately her focus has been more on cookbooks than on music. But what was it that made Trisha a star in the first place? It was neither her stuffed pork chops, nor her breakfast sausage casserole. Rather, it was powerful and nuanced singing voice coupled with a good ear for worthy songs. Trisha Yearwood is easily one of the most outstandingly talented and consistently excellent vocalists contemporary country music has ever seen. She was able to wow the critics and appease country radio while never disappointing her fans with substandard material.
This Georgia native originally moved to Nashville to get an education at Belmont University, but she soon found work as a demo singer. She became friends with Garth Brooks as he was attempting to break through in country music, and she became his backup singer when he secured a deal with Capitol Records. With the help of producer Garth Fundis, Trisha was able to score a record deal with MCA - Nashville's top label.
Trisha's 1991 debut single, an effortlessly charming ode to young love in a small town, became an instant success. With "She's In Love with the Boy," Trisha became only the second female in country music history to take her debut single to number one - 27 years after Connie Smith became the first in 1964 with "Once a Day."
Propelled by the runaway success of her first single, along with three subsequent Top 10 hits, Trisha's self-titled debut album reached double-platinum status, becoming the highest-selling debut album by a female country artist at that time. Fittingly, Trisha was named the ACM Top New Female Vocalist for the year 1991.
But in her further career efforts, Trisha sought to make an artistic statement rather than re-create the success of her debut single. (Are you paying attention to this, Gretchen Wilson?) She previewed her 1992 sophomore album with the lead single "Wrong Side of Memphis," a bluesy and ambitious country rocker about chasing dreams of Nashville stardom. The song was a semi-autobiographical account of writer Matraca Berg becoming homesick for Nashville while living in Louisiana.
On her second album Hearts In Armor, Trisha continued to develop a style heavy on introspective ballads. The number-two hit "Walkaway Joe" (which featured backup vocals from Don Henley) ranks as one of her finest.
In 1995, Trisha released her third studio album The Song Remembers When. The first single and title track became a number-two hit, and one of Trisha's signature tunes, not to mention one of the finest singles the decade ever produced. "The Song Remembers When" was a touching tribute to the power of music in dredging up forgotten emotions, and bringing back memories. Trisha's flawless vocals were the final brushstroke that made this single a masterpiece.
Trisha took a more pop-friendly direction with her further efforts. Her 1995 album Thinkin' About You produced a pair of chart-toppers (her first since "She's In Love with the Boy") in the title track and "XXXs and OOOs (An American Girl)."
"XXXs and OOOs," a single replete with catchy fiddle hooks, was a tale of an American girl growing up and learning to face real life "in her daddy's world." It was a song that Trisha discovered entirely by accident, having been written for a TV pilot, and originally meant to be recorded by Wynonna (who had to bow out due to illness). When the TV pilot failed to take off, the song became the centerpiece of Trisha's fourth studio album. No music video was produced for "XXXs and OOOs." Listen to the song here.
Trisha's 1996 album Everybody Knows produced two more major hits - the chart-topping "Believe Me Baby (I Lied)" and the Top 5 title track. Trisha showed a quirky and lighthearted side on the song "Everybody Knows" - a song about a woman bombarded with unsolicited advice on mending a broken heart. Hey, if it has the words "jerk" and "chocolate" in it, you know it has to be good.
In 1997 Trisha was invited to sing the song "How Do I Live" for the Touchstone film Con Air, after the studio had rejected LeAnn Rimes' pop-flavored interpretation of the song. After Trisha's version of the song was released to radio, LeAnn quickly released her version of the song, and the two versions began dueling for airplay. Trisha emerged victorious in the country category, with her version becoming a number-two country hit, and being included on her compilation album Songbook: A Collection of Hits. (LeAnn's version, however, became a major international pop hit)
It was at this time that the award industries began recognizing Trisha once again. In 1997, she won the ACM Award for Top Female Vocalist, and the CMA Award for Female Vocalist of the Year. She repeated the latter win the following year.
Trisha released the pop-flavored album Where Your Road Leads in 1998. This album was produced by Tony Brown instead of Garth Fundis. The lead single "There Goes My Baby," became another major hit, peaking at #2.
In 1999, Trisha received two of the greatest honors of her career: (1) Being inducted into the Grand Ole Opry by Porter Wagoner (2) Appearing on Sesame Street.
She released the album Real Live Woman in 2000, which was less successful at radio, but was praised by critics. Her 2001 album Inside Out produced her final Top 10 single with the power ballad "I Would've Loved You Anyway."
Trisha then took a four-year break from recording before releasing Jasper County - her swan song album for MCA. She later hopped over to the independent Big Machine label, and released the stunning set Heaven, Heartache, and the Power of Love in 2007. Since then, she has taken time off to promote her two cookbooks (Georgia Cooking In an Oklahoma Kitchen and Home Cooking with Trisha Yearwood). She has hinted at the possibility of releasing a new album "whenever the time is right."
Trisha achieved notable commercial success in her country music career. But make no mistake about it - The high quality and artistic significance of her music itself is primarily what puts her so high on this list. With a unique and powerful voice like hers, she could have coasted along on fluffy radio-friendly fare saved only by her performance. Instead, she chose to deliver introspective material that made ambitious artistic statements. Her music catalog that boasts artistic significance and consistency that few of her contemporaries could match. She didn't just build a career; she built a legacy.