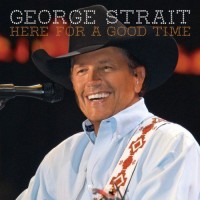 Having been a successful country hitmaker for three decades, George Strait has at times been known to toe the line between consistency and repetition. That said, it's heartening to see that his 39th studio album finds him making new artistic strides, and delivering some of his strongest and most interesting work to date.
Kickoff track "Love's Gonna Make It" isn't exactly anything earth-shattering, but the catchy tune serves as a pleasant introduction to a very strong album. Though he had a former tendency to fill up his albums with cuts by established Nashville songwriters, Here for a Good Time includes a large portion of self-written material, with Strait and son Bubba claiming writing credits on seven of the album's eleven tracks. Strait also co-produces the album with longtime producer Tony Brown. As it turns out, putting his own pen to paper pays off, as it brings about an album characterized by a mature perspective.

The album deals with many oft-covered country music themes, but offers a take that is fresh and original, with "Drinkin' Man" being a foremost example. "Drinkin' Man" presents a sympathetic first-person portrayal of a man who grapples with alcoholism from his teen years onward, often dealing with the thoughtless remarks of those who underestimate the seriousness of his problem. The song emphasizes the struggle between willpower and weakness, summed up in the insightful hook "That's a hell of a lot to ask of a drinkin' man."
"Shame On Me" falters slightly by leaning a little too heavily on a hackneyed expression (similar to "The Breath You Take"), with the song's central phrase being "Fool me once, shame on you.... Fool me twice, shame on me." However, the song earns points for affording a level of self-realization to its narrative character as it applies the common expression to a marital relationship plagued by repeated infidelity.
Naive visions and dreams collide with cold hard reality in the Jesse Winchester composition "A Showman's Life." The stark portrayal of the ups and downs of show business ranks as one of the best lyrics on the album, as well as one of Strait's finest vocal turns, with Faith Hill's beautiful smoky background vocal elevating the track further.
"A Showman's Life" exemplifies the reflective tone that runs throughout the album, making it a work of notable cohesion. These are the songs of a man who's lived life, and learned some hard lessons firsthand. Thus, he invests a lived-in authenticity in his performances. Album highligh "Poison" finds the narrator looking back with regret on bad choices made in life, and reflecting on the ongoing consequences. The sparse acoustic and steel-driven arrangement adds to the song's punch. Then the clever and catchy title track steps in as a pleasant mood-breaker, in which Strait reflects on the shortness of life, and resolves to enjoy it while it lasts. The album closes on a high note with "I'll Always Remember," which finds the legend looking back fondly on thirty years in the music business, and reflecting appreciatively on the support of his loyal fans.
It's when George Strait draws on his experience and expanded perspective that he shines the brightest. That personal hands-on approach is a large part of a what makes Here for a Good Time one of his most substantially enjoyable and rewarding efforts.
(Scores are given on a scale of 1 to 10)