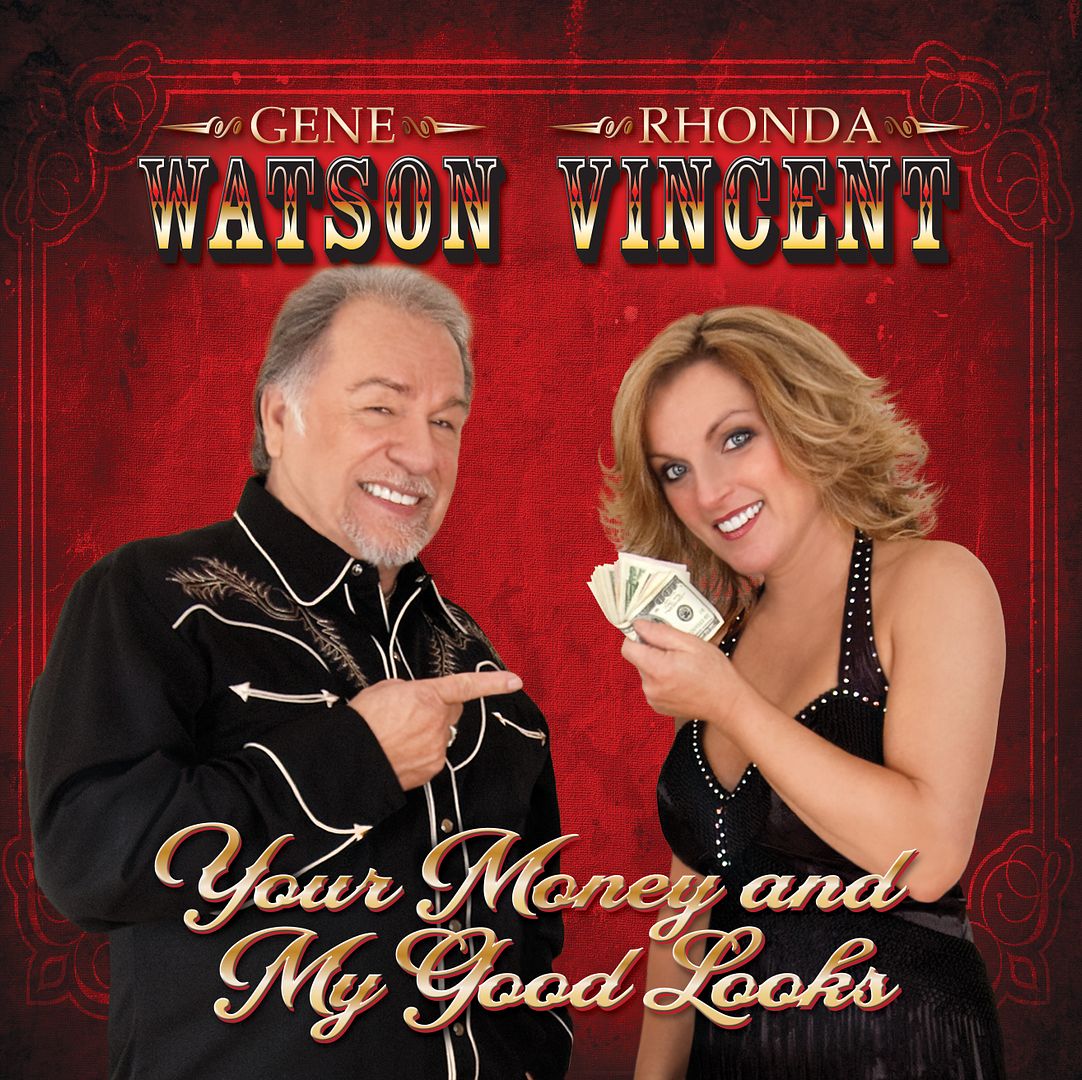 Don't these two just sound like they were meant to be together? When Gene Watson and Rhonda Vincent met for the very first time, they were scheduled to perform together on a televised portion of WSM's Grand Ole Opry. Due to a plane delay, their first meeting took place on stage when they performed together without having rehearsed or even having met before that night. And yet, when they blended their two unique voices together, it was obvious that they had something special. After a few one-off duets on various projects, and after touring together, Gene and Rhonda have finally joined forces on a full album of duets.
Your Money and My Good Looks combines the talents of the finest male vocalist in country music with those of the finest female vocalist in bluegrass music, forming a traditional country album that is an absolute gem. The song material is consistently excellent, with the two vocalists giving showstopping performances, both individually and in harmony. Producer Herb Sandker backs them up with stone cold country arrangements that don't make the tracks sound like relics of a bygone era, but rather that make them sound timeless.
The album opens with the title track "Your Money and My Good Looks" - a fun flirty up-tempo track laden with fiddle and steel. Afterwards, we are treated to some spectacular country ballads with poignant messages about love lost, love found, and love rediscovered. "Gone for Good" finds two spouses lamenting the deteriorated state of their relationship, while coming to the solemn realization that "If we keep lettin' things go bad, they'll soon be gone for good." Another highlight is "Alone Together Tonight" - written by Billy Yates, Ashley Monroe, and Terry Clayton - a cleverly-written tale of two brokenhearted individuals coming together.
Your Money and My Good Looks also finds Gene and Rhonda digging back into the archives for some well-chosen and well-executed cover tunes. It contains a remake of one of Gene's own hits, "You Could Know As Much About a Stranger," reworked as a duet. Such a reinterpretation turns out to be very fitting. The lyrics work well in the form of two lovers discussing their mutual lack of familiarity with one another. "Sweet Thang" (That's "Sweet Thang," not "Sweet Thing" like the Keith Urban song) was a hit for writer Nat Stuckey in 1966, but his version was eclipsed by that of the dynamic duo of Ernest Tubb and Loretta Lynn. Gene and Rhonda deliver a competent updating of the classic tune, with Rhonda taking on the Lynn-esque attitude quite well. Particularly enjoyable is their cover of the Hank Williams classic "My Sweet Love Ain't Around," which ranks as one of the finest displays of the emotional connectivity that both vocalists excel at.
Rhonda Vincent is one female artist in particular who displays remarkable vocal power combined with an impeccable ability to control her vocal abilities. She knows how to draw on her vocal power without beating us over the head with it, while also channeling the emotions of a song, and displaying extraordinary interpretive abilities, thus giving a truly outstanding vocal performance.
When the album reaches its final track, Rhonda says "Hey Gene, let's get outta here and let these guys play one," and then we are treated to the rousing instrumental bonus track, "Ashes of Mt. Augustine," showcasing the top-notch musicianship of Michael Rojas (piano), Stuart Duncan (fiddle), Mike Johnson (steel guitar), Michael Rhodes (bass) and James Mitchell (guitar).
Seeing the high caliber of material and performance that Your Money and My Good Looks displays, I would hardly expect 2011 to produce a better album than this one. All of the finest qualities of the country genre are on full display on this exquisite set, from proficient storytelling to deep emotional impact. Though the mainstream brand of country continually offers a poor representation of the genre, Gene and Rhonda have created a set that could be just the album to make you fall in love with country music all over again.
GENE AND RHONDA'S SCORE:

10
(Scores are given on a scale of 1 to 10)
BUY IT ON AMAZON